How To Design an eCommerce website on Shopify? | Shopify Partner company in Delhi 

Shopify, the leading eCommerce platform with versatile cloud solutions, is the ideal way to start your online store. Get a configurable shopping cart system and complete control over your website's appearance and performance.
One of the top eCommerce website builders is Shopify. With various built-in features, it assists enterprises in creating scalable online stores. It provides a wide range of services to online merchants, including payment methods, marketing, and customer engagement tools, all of which contribute to the seamless operation of the online business. It's a feature-rich and scalable online store builder with advanced management tools, well-designed themes, and cutting-edge apps and services. It assists you in increasing sales and simplifying administrative procedures. We can help you design and configure websites for easy eCommerce business administration using Shopify as a Shopify Partner company in Delhi (we are the #1 Shopify Partner in Delhi).
What Makes Shopify Unique?
Shopify is a full-featured online store platform. It has all of the features you'll need to run a successful internet business. When you sign up for a Shopify seller account, the platform will give you access to a variety of features.:
Create an E-commerce website
Choose from a wide variety of design templates to fit your industry
Choose a brandable domain to associate with your products
Add products, with descriptions and images
Process customer orders
Take payment using several different options
Offer your customer discounts and specials
And more
How to develop an e-commerce website with Shopify?
So, with that out of the way, are you ready to launch your Shopify online store?
Continue reading for om soft solution's step-by-step instructions on creating your own online store with Shopify. We walk you through the essential processes, from topic selection to theme selection, site development, business growth, and marketing.
Create a Shopify Account
Go to Shopify's website and select Get Started. Fill in your personal information and give your store a name.
Choose one of the plan options, then go to the next page.
You'll need to fill in some more details, set up your inventory, and tax rates before moving on to the next page.
Decide how many items you want to sell now. When you're finished, click the Enter My Store button.
Add Products to the Catalog
You'll find extensive instructions on how to construct your E-commerce website in the Admin panel. Keep an eye out for the "Add Products" button.
After you've taken or obtained quality photos of your products, click Add Products.
Adding products to an online store is quite similar to adding them to a WordPress site. You'll need to fill in title, description, and price information. Attempt to provide as much information as possible that will be useful to possible customers.
When you're done, don't forget to save your changes.
Customising
 Your Shopify Online Store
Go to the admin page and choose to Customize the Look of Your Website if you want to provide your consumers with a more personalised experience.
Everything from colors to logos may be controlled from here. It may appear simple at first, but a comprehensive revamp may take longer than you anticipate.
So, have patience, and keep at it.
You can either buy a readymade theme from the Theme Store, or pay an E-commerce business to design and deploy a bespoke theme for you.
Domain Setup
So, you now have a functional store, with its own design and template. Great! To really make your store official, you should now select a domain name.
Go to the admin panel and click Add a Domain. From here, you can register a domain for your new website. Take some time to think of the best domain for your store.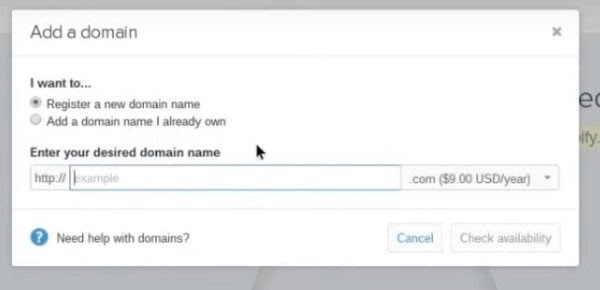 You must choose a payment option for your account after purchasing the domain.
You'll be able to see your Shopify store on the Internet soon now that your domain is operational.
Payment Processor Activation
The Payments button is located on the left side of the admin panel. When you click it, you'll see a list of payment processors from whom you can accept consumer payments.
Many online shop owners use Authorize.net and Stripe. Shopify also offers their own payment processor, which is extremely easy to integrate into your store.
After you've decided on a processor, follow the instructions for activating it on the website. You can now accept payments from your clients.
After you've completed all of the preceding stages, click the Launch Website button to discover how to go live with your Shopify store.
You've done it! You've created an internet store and are ready to start selling products right away.
Conclusion: What Om Soft Solution Can Offer
Still trying to figure out how to create a Shopify store from the ground up? Om soft solution, as an outsource E-commerce development team, can make the establishment and customisation of an online store simple.
We also offer Magento and Shopware development services, so you can rest assured that we'll assist you choose the right eCommerce platform for your needs!
We'd love to talk with you if there's anything else we can do to help you with your E-commerce needs! Fill out the contact form and we'll get back to you as soon as possible.
#shopifyecommercewebsite  #shopifywebsite  #shopifypartnercompany  #shopifyverifiedpartner #shopifyecommerce  #shopiftycompany #omsoftsolution #howtosetupshoppify
Contact us: 9015023796
Visit us:  www.omsoftsolution.com
Email: connect@omsoftsolution.com, info@omsoftsolution.com